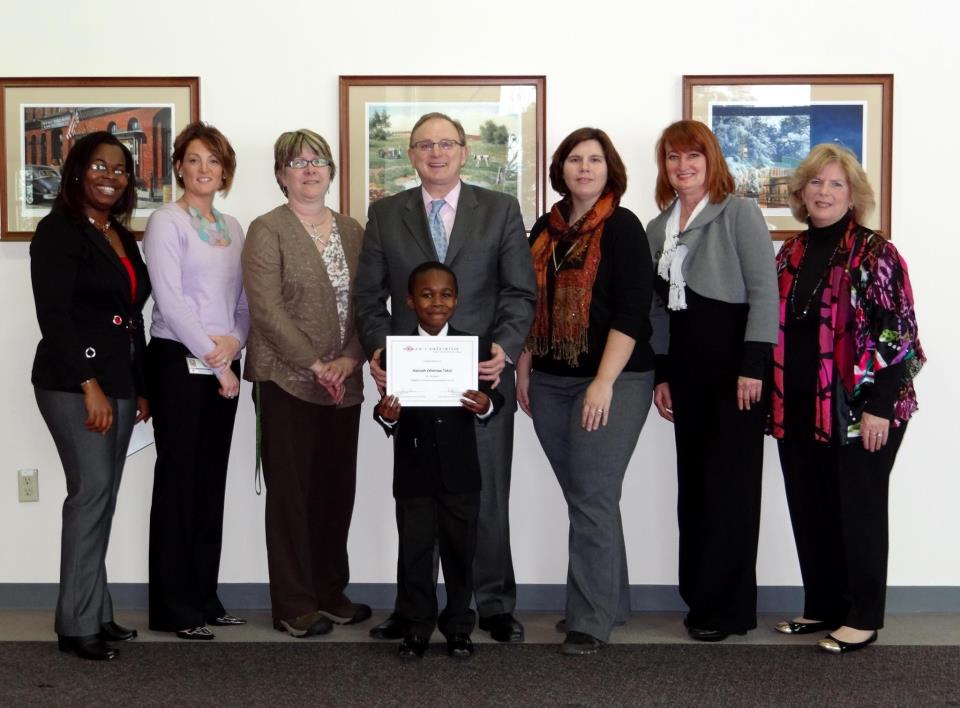 Nicole L. Arduini-VanHoose Instructor, History, Philosophy and Social Sciences
Pursuing a Doctorate
Nominated by Carol Campbell
Nicole is a very dedicated instructor, teaching General Psychology, Child Psychology and Developmental Psychology. She is the advisor for the Psychology club on campus, which exposes students to the different subdisciplines of psychology and offers students the opportunity for service to the college community. Her dedication to her students and to the HPSS department and its goals shines through in all the work she does here at HVCC.
Erica L. Cole Instructor, Medical Imaging
Pursuing a Master's Degree
Nominated by Margaret Ewart
Erica is the sole instructor for Radiographic Exposure Physics I and II and Radiographic Seminar. She is also a single mother and holds a second job at a local area hospital as a Cat Scan and Radiologic Technologist. Erica is a highly intelligent, motivated individual, and always strives for excellence, demonstrating her dedication to this program and its students by participating in fundraising events for the Radiology Club and initiating a review seminar to prepare students for their national certification.
Elizabeth A. Fahrenkopf Assistant Director of Technical Support Services
Pursuing Professional Development
Nominated by Kathleen Cline
Elizabeth has a clinical laboratory background as a licensed Medical Laboratory Technologist. She uses her training in good laboratory practices and application of laboratory safety principles to successfully supervise the tasks and responsibilities of the department staff for ordering, inventorying, storing and preparing a multitude student science laboratory course instructional materials. She continually demonstrates her dedication to the college and her department by providing knowledgeable, efficient, and quality service.
Rebecca M. Maroncelli Admissions Counselor
Pursuing a Master's degree
Nominated by Mary Claire Bauer
Becky is one of the most proactive staff members in the Admissions Department. She allows herself no down time, always assisting others when not doing her own work. The department chairpersons who work with Becky have told her supervisor that they have never had someone from admissions with so many creative ideas and suggestions as to how to recruit students and introduce them to the exciting opportunities that HVCC has to offer.
Hannah Ohemaa-Takyi Campus Security Officer
Pursuing an Associate's Degree
Nominated by Crystal Heshmat
Hannah is a hardworking and friendly member of the Public Safety team. She has a great attention to detail and goes above and beyond to help. She is also a tremendous student, as evidenced by achieving recognition on the Dean's list in Fall 2011 and Spring 2012, and on the President's list in Fall 2012. Her career in Criminal Justice is on an upward trajectory, and the campus is a safer place with Hannah on the job.
Catherine M. Perry Typist, Business Advisement Center
Pursuing an Associate's Degree
Nominated by Kate Rodriguez
Cate is beyond well-known in the Troy area and Rensselaer County for her dedication to community involvement. A graduate of the Mortuary Science program, she is currently working full time in the business department while attending classes to obtain her degree in Business. Cate hopes to establish her own business, following in the footsteps of her late father, instructor Michael McLaughlin, to make as much of a difference in the community as he did.
Lori Q. Purcell Instructor, Mortuary Science
Pursuing a Master's Degree
Nominated by Elaine Reinhard
Lori works full time as a Mortuary Science instructor, and also works full time for seven funeral homes as a Licensed Funeral director. She is a strong, talented, insightful individual who often comes in on her own time on weekends and evenings to work one-on-one with students to help them pass their national board exams. Lori further demonstrates her commitment to her students by serving as the advisor of the MTSC student club.
 Carolyn A. Sawicki Laboratory Assistant, Technical Services
Pursuing Professional Development
Nominated by Kelly DiDomenick
Carolyn is a dedicated and knowledgeable laboratory assistant in the Technical Service department, which handles the preparation of laboratory supplies for the biotechnology and biology laboratory activities. She is currently enrolled in courses at HVCC to strengthen her professional knowledge of the sciences and has shown an interest in pursuing a degree in biotechnology. Carolyn not only is dedicated to making sure the labs run smoothly; she is friendly and helpful to everyone she encounters during the day.