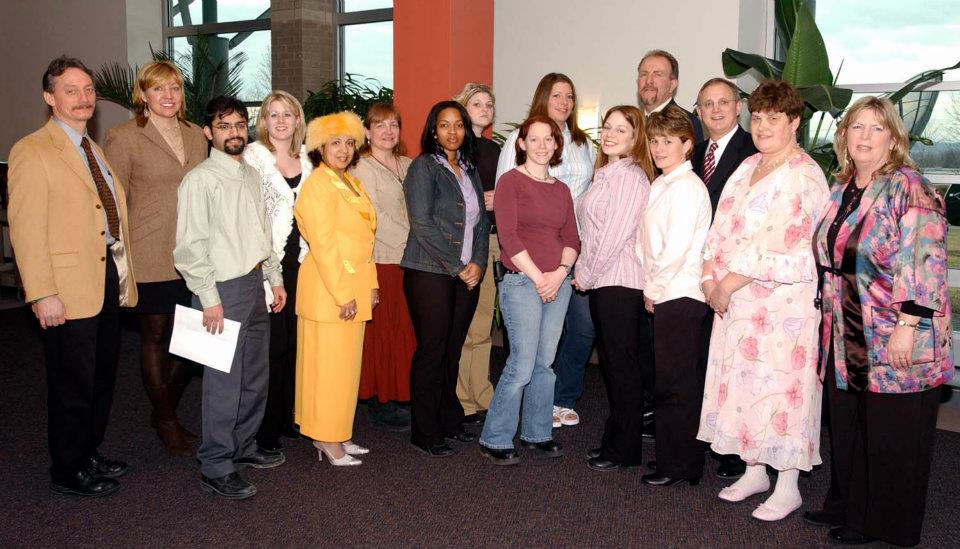 Christine C. Bieg Adjunct Instructor, Physical Education
Pursuing a doctorate in Teacher Leadership and Pedagogy
Nominated by Michael Such, Keith Thomas and Sheila Zotto
Christina may be one of the most active adjunct faculty members on our campus.  She took a lead role within the CET in learning how to adopt and utilize the 'clicker' technology devices in classes, participating on technology subcommittees, and arranging technology demonstrations for Faculty Workshop Day. Her colleagues are impressed with her student-centered approach toward education, and her ability to balance her busy schedule of teaching at HVCC and Sage, while running her own business, pursuing her doctoral degree, and raising three young children.
 Veronica B. Branca Tutor, Educational Opportunity Center
Pursuing a master's degree in Teaching
Nominated by Ann Horton
Veronica is an excellent tutor. She is extremely energetic and motivated. She is working three jobs to put herself through graduate school for her master's degree in teaching.  She constantly works with a diverse population of students with an array of educational needs / barriers that she is able to develop different approaches to, to assist each student with their specific needs.
You can tell that she truly has a gift for teaching.
 Tracey Brock Senior Clerk, Registrar's Office
Pursuing an associate's degree in Administrative Management and Technology
Nominated by Eileen Maloney
Tracey has worked for the college for more than a year.  She is a great colleague whose number one priority is serving the students.  She has excellent customer service skills and always provides any information requested in a timely, efficient manner. Tracey has excelled in the classroom at HVCC while working full-time and is driven to complete her degree with the best grades possible.  She is able to make balancing her job and academics look easy.
 Mary Evans Associate Professor, English, Modern Languages and English as a Second Language
Pursuing a doctorate in English Literature
Nominated by Ellen Laird
A dedicated, talented instructor, Mary is in the second year of her doctoral program. Her advanced work in the field will enable her to enrich her teaching and enhance the department and the college.  Her highly skilled teaching, dedicated service to the college and department, and careful attention to professional development serve as models and inspiration for her colleagues. Mary capably serves in leadership positions on the Curriculum Committee, as faculty advisor for Phi Theta Kappa, and as co-editor of Threads.
JoAnn Fowler Program Assistant, English, Modern Languages and English as a Second Language
Pursuing a certificate in Accounting
Nominated by Maria Palmara
JoAnn has been the English, Modern Languages, and English as a Second Language departmental program assistant since fall 2009.  She is extremely congenial, hardworking, and very well-organized. Her colleagues speak highly of her and are especially appreciative of her friendly personality and the support she gives to the department and to our students. JoAnn is currently completing the certificate program in accounting, and plans to earn her bachelor's degree.
  
Bettina Hamm Technical Assistant, Financial Aid
Pursuing a master's degree in Communication
Nominated by Gabriele Hamm
Bettina works full-time in the Financial Aid department, and coaches girls' soccer. Since the fall of 2011, she has pursued her master's degree at Marist College via distance learning. Bettina's graduate studies are very demanding, and take much of the time she has in the evening and weekends to complete papers, interviews, assignments and exams.

Michele Hausmann Data Analysis Coordinator, Admissions
Pursuing an associate's degree
Nominated by Kelley Wallace
Michele has been taking computer classes for the past two years to further her professional development.  At the same time, she's such a good employee with such a positive attitude.  She is always ready to go above and beyond her required duties and does so with a smile on her face. Michele is also very compassionate and believes strongly in the humane treatment of animals and has adopted several shelter pets.  She's really been an inspiration.
Christina Kelly Adjunct Instructor, Physical Education
Pursuing certification in Health and Fitness
Nominated by Colleen Ferris
Chris Kelly is an alum of HVCC and former athlete and three-time Hall of Famer.  She goes above and beyond her assigned duties to accommodate and work with our students.  Her dedication to the college as a whole is admirable.  Never does she ask for compensation and does the "extras" without any recognition.  She is pursuing certification in order to work with the elderly population in the realm of health and fitness.  

Sara Marozas Senior Clerk, Registrar's Office
Pursuing an associate's degree in Human Services
Nominated by Eileen Maloney
Sara has worked as a Senior Clerk in the Registrar's Office since 2008. Sara is very dedicated colleague and truly cares about doing the best job she can.  Sara is a full-time employee, as well as a single mother to her young son, Anthony, all while pursuing her associate's degree in Human Services.   She provides fine customer service to the students at HVCC because she can relate to the challenges that many of them face.
 Tylan Nino Clerk, Library
Pursuing a bachelor's degree
Nominated by Mary Ellen Bolton and Polly Karis
Nino is the calm presence behind the circulation desk in the evenings and weekends.  His patience and willingness to deal with the wide variety of students and problems that come through the Marvin Library doors is truly amazing.  Nino is also an actor and has appeared in everything from The Place Beyond the Pines to Law and Order.  He also works as a DJ so we are aware of his talents in the performing arts.  His commitment to education shines through.

Alicia Phelan Program Assistant, Mathematics and Engineering Science
Pursuing an bachelor's degree in Criminal Justice
Nominated by Beth Ernest and Erin Manning
Alicia does an extraordinary job as the program assistant for Math and Engineering Science. She literally keeps the office running, from dealing with students, to faculty, to other members of the college, Alicia is always there to make sure everyone has what they need. She is a role model for customer service. She is helpful and positive in her dealings with students, and she is always willing to go the extra mile for them. As a student, Alicia gets her work done early, attends every class, and gets upset if she gets even only one question wrong!  She is a model student and more importantly she is a role model for the other students in her classes.
Sarah Retersdorf Advising Specialist, Individual Studies
Pursuing a master's degree in Business Administration
Nominated by Patty Blacklock

Sarah is the spirit of WE@HVCC by the cheery way she greets each student as they come through the door; the friendly and supportive way she works with students in their educational planning process; the care and organization she has to continually assess and suggest improvements in the efficiency and effectiveness with which we serve and provide resources to our advisees, and the personal drive she has to learn and lead by taking part in various committees and meetings throughout the campus.