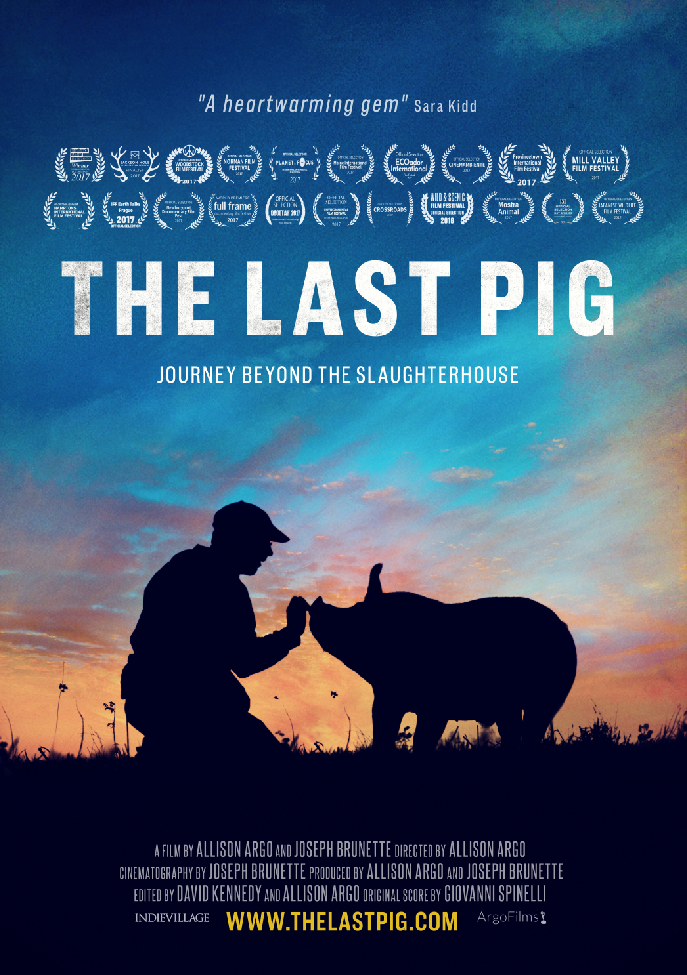 Thursday, April 19th

– This is cosponsored between HVCC Cultural Affairs and the HVCC Animal Outreach Club. 
We are excited to be moderating an incredible panel of experts (see below) following the screening of the 52-minute documentary 
The Last Pig
 on 
Thursday, April 19 from 7 to 10 p.m. in the BTC Auditorium.
"The Last Pig" (2017, www.thelastpig.com) is a non-graphic, lyrical meditation on what it means to be a sentient creature with the power to kill. Immersive, experiential, with sparse inner reflections, the film follows a Schoharie, NY pig farmer through his crisis of faith in his final season of slaughtering pigs. It earned director Allison Argo the Zelda Penzel "Giving Voice to the Voiceless" award at the 2017 Hamptons International Film Festival.
Please don't miss this film and the panel and audience discussion to follow with Allison Argo, the award-winning director of "The Last Pig," the farmer Bob Comis, who now grows vegetables in Schoharie County, and Kathy Stevens, director of the Catskill Animal Sanctuary, where many of Bob's animals found new lives!
This such a vital topic in light of the USDA proposal to relax restrictions on high speed pig slaughter.
Our event is co-sponsored by the Cultural Affairs Program and the Animal Outreach Club, my last as co-adviser. We are honored to bring this caliber of professionals and visionaries to our campus and the evening promises not to disappoint.
Free and open to the public. Come one, come all and meet these extraordinary movers and shakers, and be inspired to help make the change we need to see.
  7:00 pm – 10:00 pm
BULMER TELECOMMUNICATIONS CENTER AUDITORIUM
Show Less
Contact: Cultural Affairs, (518) 629-8071, or Animal Outreach (518)629.7319.
Web page
his event is co-sponsored by the Cultural Affairs Program and the Animal Outreach Club.
***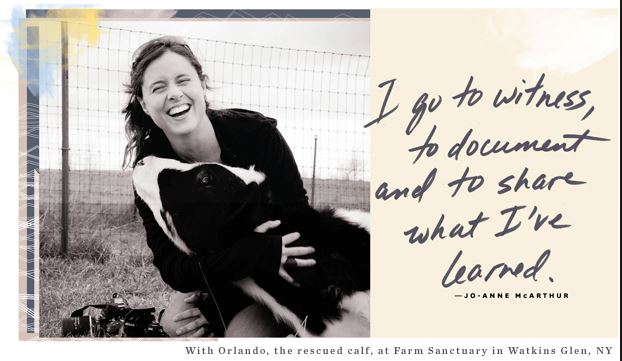 Featured World Renowned Speaker: Jo-Anne McArthur: We Animals
Free and open to the public
Thursday, October 5, 2017 (full moon)
Presentation 7:00 pm – 8:30 pm with time for Q&A afterward
Bulmer Telecommunications Center Auditorium
Hudson Valley Community College main campus (for directions and campus map click here)
We Animals, founded in 1998 by award-winning photographer Jo-Anne McArthur, uses photography to demonstrate that the animals we use for food, clothing, research, work, entertainment and companionship are sentient beings. Just like us, animals are able to perceive and feel. We Animals aims to break down the barriers humans have built that allow us to treat non-human animals as objects or property. By documenting human interactions with animals, We Animals hopes the viewer finds new significance in these ordinary, often unnoticed situations of use and abuse.
Today, We Animals is an internationally celebrated archive and more than 100 animal organizations have benefited from the project's work and continue to collaborate with McArthur on stories, investigations, campaigns and humane education. McArthur's appearance in the Capital Region is not just for avowed animal lovers, but for anyone who would like to learn about the many campaigns to end the animal suffering around the globe.
McArthur's first book, also titled "We Animals," and others will be available for purchase at the event.
We are delighted that this event is being offered in collaboration with We Animals Liaison Donna Reynolds and the Hudson Valley Community College's Cultural Affairs Department.
For more info. contact us.
***
Hurricane Relief
Animal Outreach Club Fundraiser total raised $577.26!!!!!!!!!
Monetary donations will be collected the week (Monday through Friday)  of September 25th from 12-2 PM in the Campus Center.
Give a $1, $5, or what you can.