The Animal Outreach Club started in 2005 in the wake of Hurricane Katrina.  Concerned students and HVCC staff got together to send materials to the homeless and abandoned animals in New Orleans.  After meeting, we decided HVCC had enough interest to start a student organization dedicated to all animals.
The purpose of the Animal Outreach Club is to promote and foster animal protection and advocacy locally and globally through the support of a wide variety of animal interest groups. Initiatives include humane education, Empties for Animals, and fund raising efforts.
 Additionally, the club may plan and support opportunities to volunteer, take field trips, attend workshops, sponsor speakers, and incorporate animal protection issues into community based and legislative initiatives.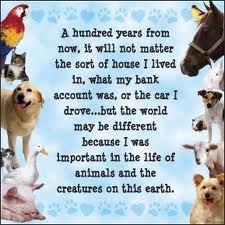 For more information, contact:
Dr. Valerie Lang Waldin, MRV 141, (518) 629.7319 or email at v.waldin@hvcc.edu .
Sara Chamberlin, ADM 140, (518) 629.4552 or email at s.chamberlin@hvcc.edu .